51 NOCs & IOCs and 2,200+ exhibiting companies
Event Overview
STRATEGIC CONFERENCE SPEAKERS AT ADIPEC 2019 INCLUDED:
His Excellency
Dr Sultan Ahmed Al Jaber
Minister of State
United Arab Emirates

and CEO ADNOC Group
His Excellency
Suhail Mohamed
AI Mazrouei
Minister of Energy and Industry
United Arab Emirates
Condoleezza Rice
Secretary of State (2005 - 2009)
United States of America
His Excellency
Mohammed Hamad
AI Rumhy
Minister of Oil and Gas
Sultanate of Oman
His Excellency
Tarek EI Molla
Minister of Petroleum and Mineral Resources
Arab Republic of Egypt
His Excellency
Thamir Al Ghadhban
Deputy Prime Minister for Energy Affairs, Minister of Oil
Republic of Iraq
Her Excellency
Hala Adel Zawati
Minister of Energy and Mineral Resources
The Hashemite Kingdom of Jordan
Honourable
Irene Muloni
Minister of Energy and Mineral Development
Republic of Uganda
His Excellency
Ivan McKee
Minister for Trade, Investment and Innovation
Scotland
Honourable John Munyes
Cabinet Secretary
Ministry of Petroleum and Mining, Kenya
Honourable
Dr. Mohammed Amin Adam
Deputy Minister of Energy
Republic of Ghana
His Excellency
Omar Ayub Khan
Federal Minister for Energy (Petroleum & Power Divisions)
Government of Pakistan
His Excellency
Mohammad Barkindo
Secretary General
Organization of the Petroleum Exporting Countries (OPEC)
His Excellency
Dr Mohammed Nasser Al Ahbabi
Director General
UAE Space Agency
Patrick Pouyanné
Chairman and Chief Executive Officer
Total
Bob Dudley
Group Chief Executive
BP
Claudio Descalzi
Chief Executive Officer
Eni
Jason Bordoff
International and Public Affairs
Columbia University
Vagit Alekperov
CEO
Lukoil
Joe Kaeser
President and CEO
Siemens
Takayuki Ueda
President & CEO
INPEX Corporation
Dr Bakheet Al Katheeri
CEO
Mubadala Petroleum
Abdulaziz Abdulla Alhajri
Executive Director, Downstream Directorate
ADNOC
Dr Mohammed Al Qahtani
Senior Vice President - Upstream
Saudi Aramco
Lorenzo Simonelli
Chairman and CEO
Baker Hughes, a GE company
Fatima Mohamed Al Nuaimi
Chief Executive Officer
ADNOC LNG
David Dickson
President and Chief Executive Officer
McDermott
Abdulaziz Al Judaimi
Senior Vice President - Downstream
Saudi Aramco
Olivier Le Peuch
Chief Executive Officer
Schlumberger
Antonio Pietri
President and CEO
Aspentech
Shawn Bennett
Deputy Assistant Secretary for Oil and Natural Gas
U.S. Department of Energy
Mark A. McCollum
President and CEO
Weatherford
Seifi Ghasemi
Chairman, President and CEO
Air Products
Tomonobu Uchida
President
JOGMEC
Michele Fiorentino
Chief Investment Officer
ADNOC
Douglas J. Pferdehirt
Chairman and Chief Executive Officer
TechnipFMC
Mike Train
President, Emerson and Chairman
Emerson Automation Solutions
Stefano Cao
Chief Executive Officer
Saipem
Alfred Stern
Chief Executive Officer
Borealis
Michael Sabel
Co-CEO, Co-Chairman and Founder
Venture Global LNG
Pedro Miró
Chief Executive Officer
CEPSA
Arif Mahmood
Executive Vice President and CEO Downstream
PETRONAS
Andrew Wood
CEO and Executive Director
Worley
Peter Terwiesch
President, Industrial Automation Business, Member of the Group Executive Committee, Group CTO
ABB
Andre Luyckx
Vice President Digital Transformation
ExxonMobil Upstream Integrated Solutions Company
Umberto Carrara
Executive Vice President Refining
Eni
Shashi Shanker
Chairman & Managing Director
Oil & Natural Gas Corporation (ONGC)
Sanjiv Singh
Chairman
IndianOil
John Defterios
Editor and Anchor
CNN Business Emerging Markets
Elena Burmistrova
Deputy Chairman of the Gazprom Management Committee
Director General of Gazprom Export
Mario Mehren
CEO
Wintershall Dea
Arjun Murti
Senior Advisor
Warburg Pincus
Becky Anderson
Managing Editor
CNN Abu Dhabi and Anchor
Jan Leitermann
Group CIO and Digital Officer
OMV
Ed Rawle
Chief Economist
ADNOC
Alan Nelson
Chief Technology Officer
ADNOC
Andrew Smart
Global Energy Industry Managing Director
Accenture
Intisaar Alkindy
General Manager Upstream and Deputy Country Chairman
Shell Oman
Dr Fereidun Fesharaki
Chairman
FGE
Proscovia Nabbanja
Acting CEO
UNOC (Uganda National Oil Company)
Nina Hoegh Jensen
Senior Vice President - Operations
Total Abu Al Bukhoosh
Richard Holsman
Managing Director – Resources Digital, Global Lead
Accenture
D. Sergio López
Deputy Director for Hydrocarbons
Ministry of Energy, Tourism and the Digital Agenda, Spain
Morgan D. Bazilian
Director, Professor of Public Policy, Division of Economics and Business
Payne Institute
Wim Thomas
Chief Energy Advisor
Shell
Dr. Satyam Priyadarshy
Technology Fellow & Chief Data Scientist
Halliburton
Dr Carole Nakhle
Founder and Chief Executive Officer
Crystol Energy
Lord John Browne of Madingley
Executive Chairman
L1 Energy
General (ret.) David Petraeus
Chairman
KKR Global Institute
Charif Souki
Chairman of the Board
Tellurian
Tom Ellacott
Senior Vice President
Wood MacKenzie
Mark Cutis
Chief Financial Officer
ADNOC
Marie Ffolkes
President, Americas
Air Products
Tosha Perkins
Vice President of Talent and Organisational Development
McDermott
Shawna Shelor
Executive Development and Diversity and Inclusion Leader
Baker Hughes, a GE Company
Jamie Woodruff
Europe's No. 1 Ethical Hacker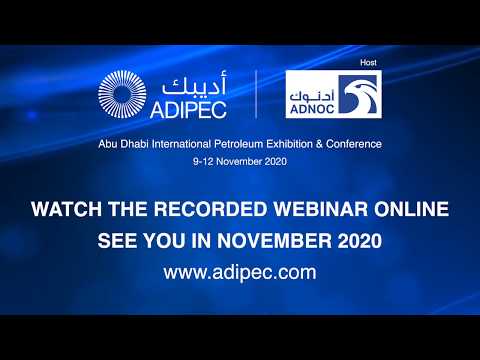 ADIPEC Webinar : Energy Supply And Demand Dynamics
In the wake of the economic impact of the COVID-19 pandemic, global oil markets are facing a dual supply-demand shock of unprecedented proportions. Global demand has fallen by as much as 30% over the past few weeks, as economies around the world have moved into recession as a result of lock-down and social-distancing measures designed to slow the spread of the COVID-19 virus. Overall, the IEA now forecasts that average demand could fall by over 9 mmb/d in 2020, equivalent to around 9% of the 2019 figure.
4 May 2020
60 mins
Watch The Webinar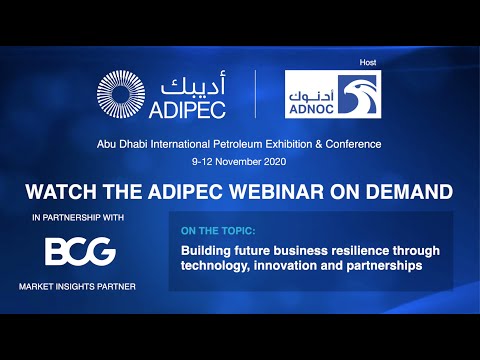 ADIPEC Webinar: Building Future Business Resilience Through Technology, Innovation and Partnerships
Changes both short and long-term are challenging the industry's profitability and its ability to create sustained value for investors and governments.
View the on-demand webinar and hear from expert panelists and their discussion on building future business resilience through technology, innovation and partnerships.
9 June 2020
60 mins
Watch The Webinar
ADIPEC in the News
25 June 2020
THE OIL AND GAS INDUSTRY SHOULD USE TECHNOLOGY TO REIMAGINE THE GLOBAL ENERGY SYSTEM
Read More